Can I wear high heels?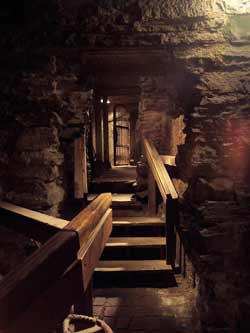 Be prepared for the underground landscape to be moderately rugged. You'll encounter six flights of stairs, uneven terrain and spotty lighting. So dress for the weather and leave the kitten heels at home.
Can I reserve a spot on the Underground Tour?
You can buy your ticket in advance—online or by phone— up to two hours before the start of a tour. Call 206-682-4646. You also may purchase tickets in person at our ticket booth before your tour. It's first come, first served, so we suggest you arrive early.
Can I get something to eat or drink before or after the tour?
Don't go hungry, for heaven's sake. We have quick, fresh fare at the Underground Café, next to our ticket office at 608 First Avenue. If you're looking for a refreshing drink, try the best Bloody Mary in Pioneer Square or local beers on tap at our full bar!
Where do I park?
Don't! Please take the bus or light rail (metro.kingcounty.gov)! But if you really want to drive, there is parking available throughout the neighborhood both on the street and in parking garages. Click Here for a Parking Map.
Do I have to pay cash for the tour?
We accept credit cards online, over the phone, and at our ticket office.
How many tickets can I buy?
As many as you want, depending on availability, of course. If your group is larger than 10 adults, or has a significant number of children or students, you can have the Underground all to yourself with a private tour. Private tours are our specialty. Please contact us at 206 682 4646, ext 118 to speak with a tour specialist.