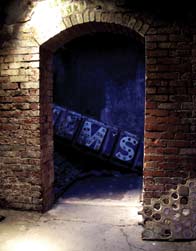 BILL SPEIDEL'S UNDERGROUND TOUR
is a leisurely, guided walking tour beneath Seattle's sidewalks and streets. As you roam the subterranean passages that once were the main roadways and first-floor storefronts of old downtown Seattle, our guides regale you with the stories our pioneers didn't want you to hear. It's history with a twist!
The tour begins inside Doc Maynard's Public House, a restored 1890s saloon. Following a short intro, we'll walk through historic Pioneer Square to three different sections of Underground—about three blocks in all.
The tour ends in Rogues Gallery, the Underground Tour gift shop.
Here you will find a mix of historic displays and an array of contemporary gifts showcasing Seattle's quirky character.
You can get a memento of your Underground Tour experience at Rogues Gallery; a copy of Sons of the Profits, the book by Bill Speidel upon which the tour is based, or a Seattle souvenir or two.
After hearing the history of the invention of the flush toilet in England on the tour, you can check out our beautiful, original Crapper toilet imported from England.
Tour Schedule
The Underground Tour is 75-minutes. Tours start on the hour (Additional tour times May 27th - September 5th on the half hour)
April - September
Daily, 9 am - 7 pm
May 27th - September 5th
Daily on the hour 9 am - 7 pm and these additional ½ hour times: 9:30 am, 10:30 am, 11:30 am, 12:30 pm, 1:30 pm, 2:30 pm, 3:30 pm and 4:30 pm
October - March
Daily, 10 am - 6 pm
Christmas Eve
10 am - 1 pm
Christmas Week December 26 - 31
9 am - 6 pm
Closed Thanksgiving Day and Christmas Day.